August 28, 2009
April 24, 2009
My Betty is one who loves to write letters to lawmakers who step on our liberties. The other day State Rep Gary Smith introduced House Bill 844 to ban smoking in bars. This is her response to a wingnut Rep. who represents a very polluted place. I like it.

Enjoy.
Dear Representative Smith,
Regarding House Bill 844 you state:
"I am just trying to take the next step and bring the ban to bars" as a way to combat second-hand smoke and the illness it causes, Smith said. "Twenty-five other states have done this, some of the more progressive states, and some of the more progressive cities have done this. . . . This takes another step in trying to create a clean-air environment."
On the surface this "sounds" like a noble pursuit. It is not. The next paragraph of the article states:
"Smith said he is not including casinos or gambling riverboats in the ban because it would put the gambling outlets in the state at "a competitive disadvantage with Mississippi's" gambling industry."
So on one hand you are a noble crusader for clean air but on the other you are saying that profits (but only your friends in the gambling industry's profits) are more important than clean air. What exactly does it take to get on your list of whose profits are more important than clean air? I'm sure that the bar owners of Louisiana , whose rights you want to trample on, would like to know.
I'm sure you have handed out numerous brochures about the dangers of second hand smoke, blah blah. The truth is we live in non-sterile world and to attempt to legislate sterility in our environment is both draconian and unrealistic especially when it is designed to target only Louisiana's bar owners. This is a large group of small business owners trying to survive in a down economy. Thank goodness we won't be threatening the profits of your gambling friends.
The truth is that if I and a group of friends would like to meet at a bar and lets say watch a New Orleans Saints game and some of them smoke they have to sit for 3 hours without being able to. But wait a minute, there is a solution , we can go to your gambling friends' bars to watch the game and smoke all we want because their profits are more important than the air you say you want to clean up.

You mentioned and I repeat:
"Twenty-five other states have done this, some of the more progressive states, and some of the more progressive cities have done this. . . . This takes another step in trying to create a clean-air environment."
Here is the reality of that situation.
When we evacuated for Katrina we stayed in California which would qualify as one of your "progressive states" which has passed a no-smoking in bars law. When we went to any of of these bars you could see large groups of people standing outside smoking. I spoke to one bar owner about the law at which time he told told us that since this law was passed he has lost somewhere in the neighborhood of $ 7,000.00 to $ 10,000.00 per week and this was just one bar. Now lets take a guess at lost state revenues from all of the California bars who, in all likelihood, are having the same experience.
This law didn't clean up anything, didn't stop people from smoking and sabotaged revenues for both the bar owners and the state of California.
It is bar owner's right to decide whether he or she has a non-smoking or smoking bar it is not nor should it ever be yours.

But since you mentioned a competitive edge with another state's businesses, what about all the people who live in areas bordering other states that still allow smoking in bars. What would stop people from just going down the road to the other state where their rights have not been infringed upon and spending their money out of state? Nothing I dare say and how much lost revenue over time will Louisiana suffer. This, of course is anyone's guess but I'm willing to bet it will be substantial over time.
Representative Smith, your House Bill 844 is shortsighted, ill timed, accomplishes non of your stated goals, will have a detrimental effect on small business owners statewide and cost the state of Louisiana much needed tax revenue.
The only group of businesses  this bill has any benefit for is your friends in the gambling industry.
Here are some other peoples comments from nola.com regarding this abomination of a bill:
_______________________________________________________________________________

To every smoker out there, pay attention. If you believe that this will end with the bars you are mistaken. Check out the progression of this legislation in CA and the other 24 states.
In CA specifically there are groups fighting to ban smoking in apartments, condos, multi-family dwellings and any residence that is close enough for a neighbor to smell the smoke. They are also trying to ban smoking in private vehicles.
Those that rant about socialism and marxism should be screaming about this whether they smoke or not.
________________________________________________________________________________________
Next thing you know they are going to tell us adults that we can't drink alcohol in bars either.
Adults go to bars under their own free will and know that there may or may not be smoke there.
Is this going to be like "Demolition Man" and we will be stuck with Taco Bell?
________________________________________________________________________________________
Please, does Louisiana really have to join the growing ranks of nanny states? Grown adults can decide for themselves whether to smoke or not, and those who don't want to patronize bars that allow smoking don't have to. There are already several bars around NOLA that don't allow smoking, and that's fine. The state meddles in people's lives enough… let bar patrons and owners decide for themselves.
________________________________________________________________________________________
Why NOT the casinos? It can't be about money, can it?!
IF this ban passes, smokers and non-smokers alike should insist that casinos are included. If our government REALLY cares about the health of the people (and not the money) then ALL public places should be included. Let's see how far this would get..
BTW, this message is from a smoker.
_________________________________________________________________________________________
Rep. Gary Smith,
Make Norco smoke free first! And lets see how that works out for you!
Rep Gary Smith, SHOW ME YOU'RE BACKBONE!
_________________________________________________________________________________________
There are many more just like these and you can read them for yourself at nola.com.

Representative Smith we don't need you as our Big Brother and we don't want you as our Big Brother.

Do the right thing and rescind this fraudulent, ineffective and disgraceful piece of legislation before it does far more harm than good.

The erosion of our civil rights and rights of business owners has to stop somewhere. Stop it here. Stop it now.


Representative Smith, if you truly want to crusade for a cleaner environment I have some suggestions that will help you accomplish this without trampling on the rights of individuals and business owners state wide.

Lets take a look at your own district of Norco.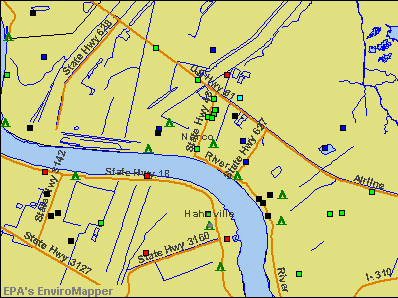 Using this legend I count:
3    discharges into the water system
14  Hazardous waste sites
1   Toxic release site
7    Air Release sites (and I know how important clean air is to you)
13  Sites which produce multiple types of discharges
Representative Smith, you have your work cut out for you. Since, as a representative your first duty is to serve the people in YOUR district Id say you should start cleaning up your own back yard before trying to mess up everyone else's.
Best Regards,
Betty Anne Davis
February 25, 2009
December 11, 2008
November 17, 2008
November 13, 2008
October 31, 2008
October 27, 2008
October 7, 2008
October 6, 2008
Older Posts »